UPPGRADERING
installera
uppdaterad kod
Lyckad
uppgradering = avtal måste vara igång =
den säger ifrån annars
"Upgrade customer
and license" = byta till nyare licenskod = uppgradering
Build 5.5. 308
dvs version fr o m 26/5 2014 och senare.
Instruktioner
för användare/kunder med gällande update-supportavtal.
Om ni
har gällande avtal och vill uppdatera befintlig installation till
senaste.
Det
finns 2 st alternativ = vi rekommenderar automatisk.
A) AUTOMATISK METOD = Enkelt !
Installera den nya versionen och ni får hjälp av
auto-web-online vid genomförandet.
B) MANUELL METOD = Manuell aktivering kräver att ni erhållit den helt
nya koden (i alt.A göres detta online
via web direkt)
Kontakta Sverige supporten för att få nya licenskoden manuellt
(nya koden ca 5-10ggr längre än gamla=innehåller avtalsdatum mm)
Om ni gör en A) installation först kan
den koden kopieras till manuella installationer dvs alt.B.
Instruktion
A) AUTOMATISK METOD dvs ni gör allt direkt och på en gång = enkelt.
– Hämta program
– Sätt igång installationen
– När nedan bild visas, VÄLJ: Free Version (om ni inte har koden
dvs möjliggör auto-hjälp i nästa steg)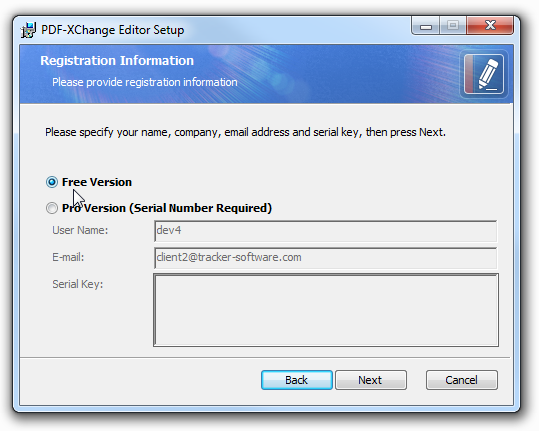 STEG
2) När ni öppnar nya programmet för forsta gången syns
detta: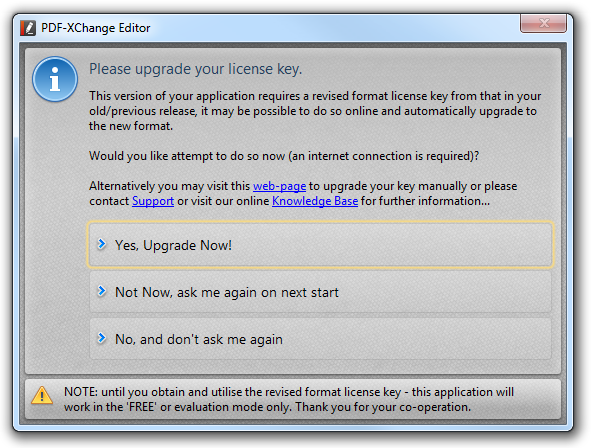 Alternativ:

Yes, Upgrade Now! – Automatiskt uppgradering av ert licensnummer
(nyckel alt.key)
Internet koppling till PDF-XChange licensserver (internationell webserver).
Programmet hämtar nya nycklar.
Installerar nya nycklarna.
Not Now, ask me again on next start – Stopp nu men
förberedd nästa gång ni startar programmet.
No, and don't ask again – Sätter stopp för uppgrade
fråga/prompt och programmet fortsätter i TRIAL läge.
**Notera: Man kan återaktivera Promt läge igen!
Gå till Edit->Preferences->Prompts och
klicka på Restore default dialogs state knappen.
Stäng
ner Program och återstarta och "Promten" visar sig igen.
Om
ni väljer: Clicking Yes,
Upgrade Now!
Programmet kontaktar vår web server och stämmer av kund/konto och
licensdata (online check).
Om allt ok => byter automatiskt ut gammal kod mot helt ny uppdaterad
licenskod = automatisk uppgradering.
Den nya koden hämtas och installeras direkt in i eran nya PDF-XChange PRO
installation.
Klicka OK för att stänga Registrerings
Dialogen.
Börja använda er licensierade PDF-XChange PRO program.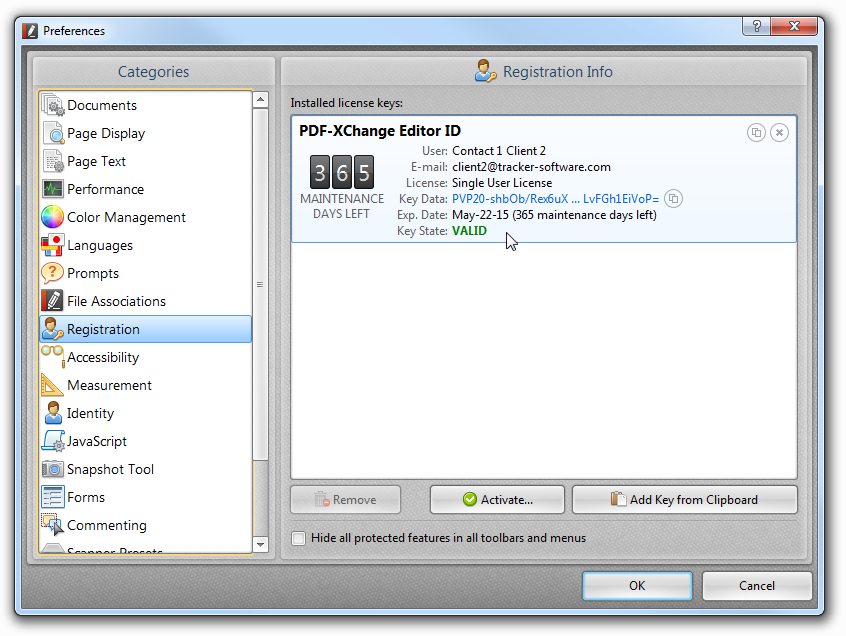 b)
Manuell metod:
Om ni är osäkra på om ni har gällande supportavtal?
Kontakta Sverige supporten eller leta efter tidigare (e-post) PDF-XChange
leverans, PDF-XChange faktura = finns som text i e-post fält Ämne.
När ni fått besked kör automatisk metod eller erhållit kod ange det vid
fråga..
Den
NYA KODEN – se exempel nedan
Den nya koden skiljer sig från gamla dvs innehåller mycket fler data bl a
få ni besked om avtalsperiod mm.

STOPP
– KLART !!
English/USA
language
Current
License Holders with Previous Version Installed – Active Product
Maintenance
Users
with a licensed PDF-XChange product already installed, and have valid
product maintenance can upgrade to the new serial key format by installing
the latest version of their product build 308 or later and choosing one of 2
options for upgrading to the new secure serial key.
The first is by installing the new version and on your first time running
the program, you will be prompted to automatically upgrade through the
software UI , or prior to installing the new version you can upgrade to the
new secure serial key, and
a)
Automatic Method: First run of installed build 308 or later:
STEP
1) Download and/or Run the program
installer from the download link provided
on your invoice/order confirmation email.
Ensure
that when you get to the Registration Information screen that you have Free
Version selected. (The program will license your software the first time you
run it).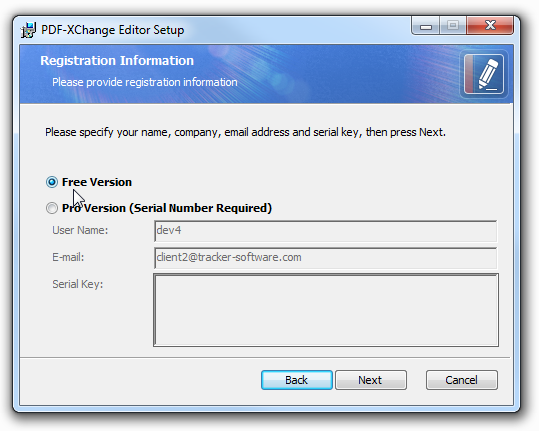 STEP
2) The first time you Open the new build 308 of PDF-XChange
Editor, PDF-Tools, PDF-XChange Printer, Printer Lite 2012 you will be
presented with the following menu.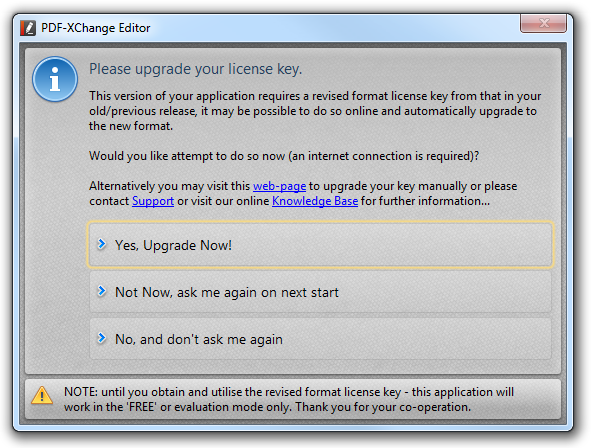 Options:
Yes, Upgrade Now! – Automatically upgrades your serial key by
connecting to our web server and downloads and installs new serial.
Not
Now, ask me again on next start – Put off the automatic
upgrade this run of the program but you will be prompted with this menu
again the next time you run the program.
No,
and don't ask again – Upgrade Prompt is disabled and your
product will remain in trial mode.
**Note: If you've select this option but at a later
time want to be re-prompted you can reactivate the prompt by going to Edit->Preferences->Prompts and
click the Restore default dialogs state button.
Close
the Program and then re-open it and you again will be prompted with the menu
above.
You
can click the web-page link to manually
upgrade your serial key via your website account see the next section b)
Manual Method.
STEP 3) Clicking Yes,
Upgrade Now! the software will contact our web server and if your
serial key is registered to your account your old serial key will
automatically be upgraded
to
the new serial key which will be downloaded and installed directly into the
product. Click OK to close the Registration INfo
dialog and start useing the licensed software.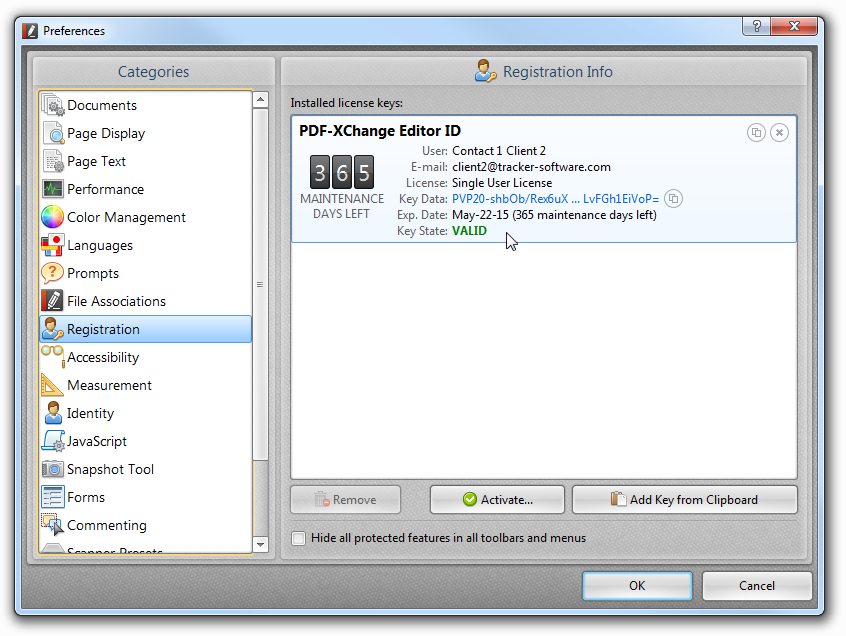 IMPORTANT: If
you have any issue with the automated process (ie: expired maintenance)
you can click the web-page link in the
dialog box and you will be directed to upgrade your serial key manually via
our website, see section b) Manual Method.
Manual
Method:
If you are not sure of your product maintenance status or have issues during
the automated upgrade process you can email Swedish Support (PDF-XChange
Sverige).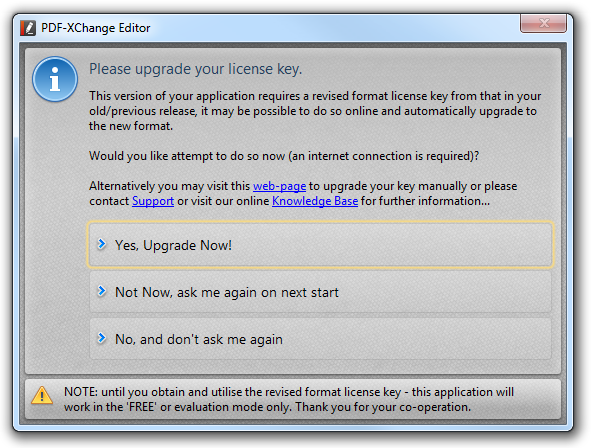 Exempel
på nya KODEN (ca 5 – 10ggr fler tecken än förr)